Let's see: Name? Done! Email? Done! Payment method? Done! Check out process is almost completed. Click on "Purchase" button and wait! wait! and wait! No Internet Connection. So, the customer just leaves the shop with no regret but it's really trouble with merchants. The cart is ABANDONED!
Another scenario may happen likes the customer loves products they are going to purchase but suddenly, everything goes wrong just because they are not happy with shipping fees. Customers don't hesitate to drop the cart but it would be a deep sadness to sellers.
There are still so many other barriers causing online purchase to be interrupted.  According to Baynard Institute, over 68% online shopping carts are abandoned. This number is a big bother towards merchants.
Don't let these reasons ruin your business. It's the time for Cart Abandonment Email Strategy comes into play. By doing this way, sellers can recover 5% to 11% of lost sales. Let's create an impressive number of sales with abandoned orders by Smart Shopify apps below
Jilt lets you create customized email templates and schedule the time to send emails after an order has been abandoned.
With powerful Jilt, you can:
Capture the number of abandoned or recovered orders everyday and how many orders are still in recovery process
Quickly create professional campaign HTML content
Track all abandoned orders in your shop and send recovered emails in an attempt to save this lost revenue
View the status of abandoned cart whether they are still abandoned or recovered.
Abandon Aid offers unlimited emails and focuses on recovering orders in the simplest and most effective way. You will see that Abandon Aid is:
Simple – No complicated configuration or campaigns!
Powerful – Instant order recovery notification!
Smart – Real-time order analysis technology!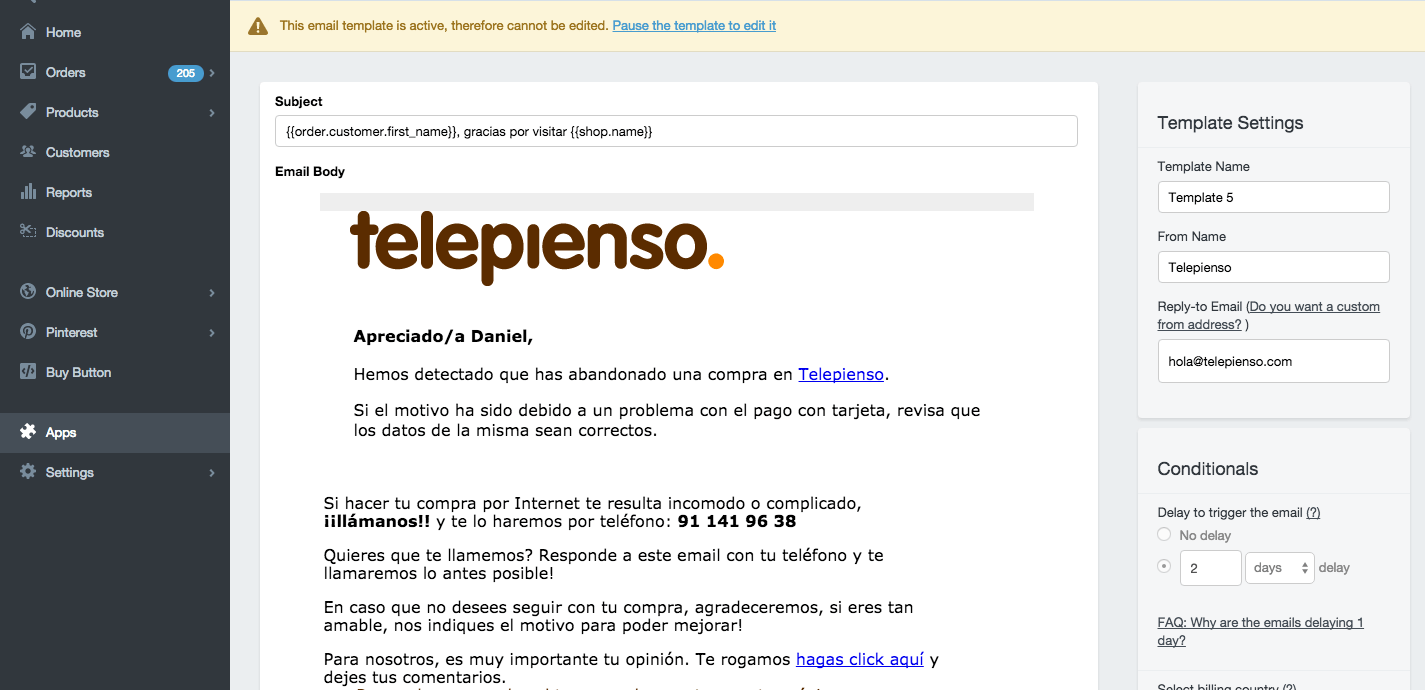 MoonMail Recover Checkout recoups money lost by reminding customers about their abandoned carts. There are some awesome features integrated inside, for example:
Recover lost sales using sophisticated email technologies with up to 5 email templates
Internationalize template
You can choose between sending automatically or manually
The images of abandoned products are inserted in the email sent to visitors
Fully customize the timetable for sending recovered emails
If you don't use Shopify for your Shopping cart platform, there are still many other options for you to build good customer service and avoid shopping cart abandonment 
CartRescuer

It combines 3 main functions: Cart Abandonment, Smart Surveys and Popup Offers

CrazyEgg

CrazyEgg shows you exactly what and where visitors click, even if they didn't click on the link

Rejoiner

Rejoiner is lifecycle email software that automates triggered email campaigns for Brands

Olark

Olark reveals who's on your website and sees what's in their shopping cart. There is customers' review to determine how good the customer support is

AbandonAid

AbandonAid works well with a wide range of popular platforms to minimize cart abandonment

Yotpo

Yotpo is the smartest way to get more ratings and reviews, boost traffic and increase sales

Adroll

Adroll aims to segment customers based on products they have viewed and apply corresponding ads so shopping cart abandonment can be decreased

Ethnoi

Merchants can use customized survey to ask prospective customers' opinions about the service

Qualaroo

Through Qualaroo surveys, you will get an insight into customers' real problems in an attempt to decrease abandoned orders

ClickTail

ClickTail reveals consumer behavior, needs and intent at every touch point of the digital conversation, delivering insights into delight customers and create more value

Conversions on Demand

The Conversions on Demand software takes an unconventional approach on cart abandonment and recovery solutions.
Related posts