Ap Shopify Quick View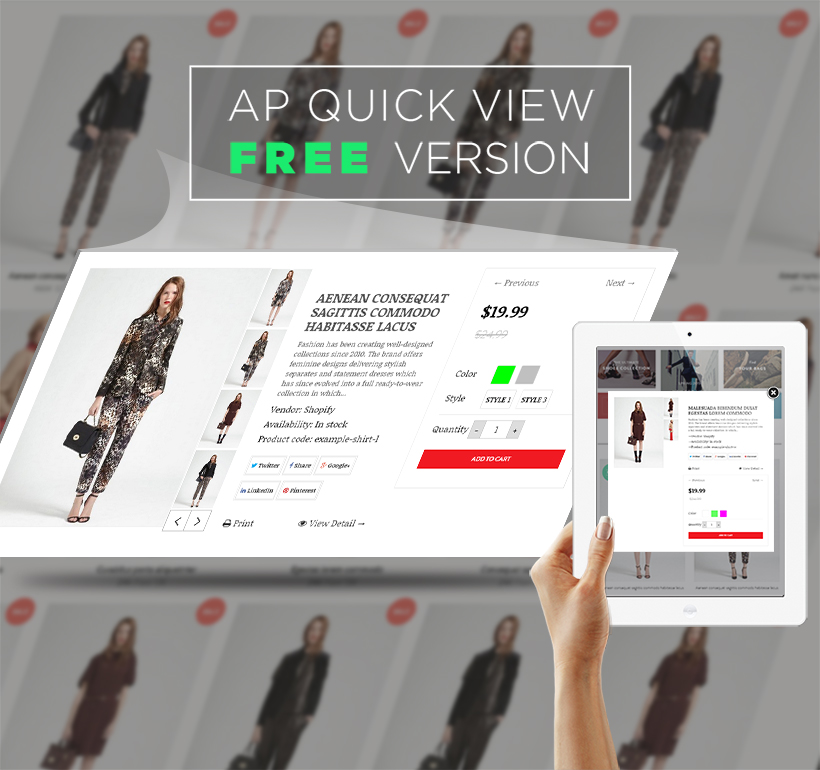 The online shopping with Apollo Quick View will be more convenient, let me explain it to you. There is no doubt that your home page is not enough to show all product's details to help customers have fulfill information of your product, when consumer the select a product, we know that the page will load to the detail page, then if they do not like this product, they should come back home page early to choose their next product. You and I know the process is extremely time-consuming. Therefore we have made Apollo Quick View for customers to get a detailed overview on the homepage page, with a click clear product images and related information will be displayed in full detail. It seems easier for all.
Friendly user interface, simple configuration, works on various screen sizes and devices.
Ap Quick View settings for all pages which show relevant products.
Add products to shopping cart and show quick view window without reloading the whole page using Ajax.
Easy to use and change backend design.
Customize texts displayed on the popup.
Ap Quick View will be auto add anchor elements or user can choose which product will be applied anchor elements
User can add Label, Icon and so on as Next/Preview button, Label Product code, Label Quantity, etc.
You also use our social button to share the product you like.
Ap Quick View allowed customer to configure the color, size and position of button Quick View.
Ap Quick View is an extension for your online shop which supports quick access to product information. Consumer will be provided a quick view popup of any products with Next and Previous product without waiting for loading the entire site or returning to category or home page. Ap Quick View popup also supports simple operations to process products' browsing and order every moment. This extension is not only installed on homepage but also in others like relevant product detail pages, search page or category pages. With simple installation, our extension will help shop owners and customers save lots of time and enjoy interesting user experience. It brings new user experience to your customer, which will be faster, more concise and less time-consuming.
OUR PLANS
✔ LIVE DEMO
✔ FREE
✔ Shopify Shopping Cart Software – Start your FREE trial today!
Related posts